The items displayed at our website do not represent our full item's listing at stores which exceed 45,000 items
Fast Delivery

Free Returns

Best Prices and Discounts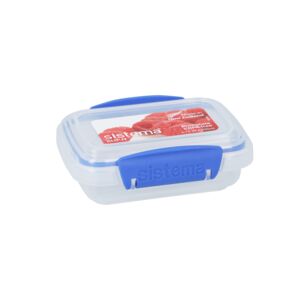 CONTAINER 200ML RECT KLIP IT SISTEMA
ID: 17230
SAR 13.00
Container 200ml rect klip it Sistema was designed to keep your food fresh for longer, the space in your fridge larger and make your life easier.
Container 1L Rect Klip It Sistema:
Rectangular range ensures the most efficient use of space in the fridge, freezer and pantry.
Food stays fresher for longer with easy locking clips.
Designed with flexible seal.
Phthalate and BPA free.
Safe to use in the dishwasher (on the top rack), the microwave (without the lid), or in the fridge and freezer.
Designed and made in New Zealand by Sistema.
Food Storage
| | |
| --- | --- |
| MATERIAL | BPA FREE PLASTIC |
| VOLUME CAPACITY | 200 ML |
| FAMILY | SISTEMA |